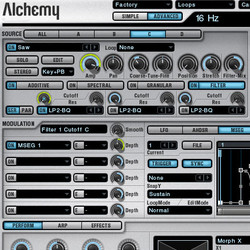 Camel Audio has released version 1.12 of Alchemy, a sample manipulation synthesizer for Windows and Mac.
This update includes many new features and bug fixes including improved Cameleon preset import, playback position indicators for all editors, the performance octave switch remains active when changing presets for easy key switching between remix snapshots, equal power cross-fading between sources, increased zoom levels for some editors, improved skinning and numerous other improvements. This version of Alchemy no longer requires the main Alchemy key file as the users registration details are now encrypted and embedded directly in to the Alchemy binary file for improved security and protection.
Changes Alchemy in v1.12
Improved Cameleon preset import
Source editor playback position indicator
Step sequencer playback position indicator
MSEG playback position indicator
XY-MSEG position indicator
Octave control in perform stays active when changing presets
Snap X in additive editor – now allows tempo sync of additive sounds
MSEG views retain zoom level and position
Randomize MSEGs and Step Sequencers
Increased maximum zoom levels for MSEG and additive editor displays
Menu option in spectral editor to set logarithmic scaling of Y-axis
XY equal power cross-fading
Alchemy key file is now embedded into the Alchemy component
Remix pad numbers are now optional for custom skins
XY pad background image is now customisable
XY pad triangles are now optional
Knob sizes in GUI skin files are no longer a fixed size
Many bug fixes
Camel Audio has also released a new set of samples and presets for the Factory library as part of the Group Buy bonuses:
Choirs, Basses & Keys – 500MB samples
Viral Infection from Nucleus Soundlab – 1GB samples
150 new presets making use of the latest sample content
Four tutorial videos illustrating how to use Alchemy more effectively
Registered users of Alchemy can download the latest update, new content and view the tutorials by logging in to their support account. A list of new presets sorted by category is available, along with a list of the new samples.
Visit Camel Audio for more information.