Brad Robinson has released a new build of the Cantabile music workstation, a major update that introduces several non-backwards compatible file format changes.
The update includes a new concept of "resetting" a song or rack, gain settings for any audio input or output port, main toolbar level meters and MIDI activity indicators, and lots more.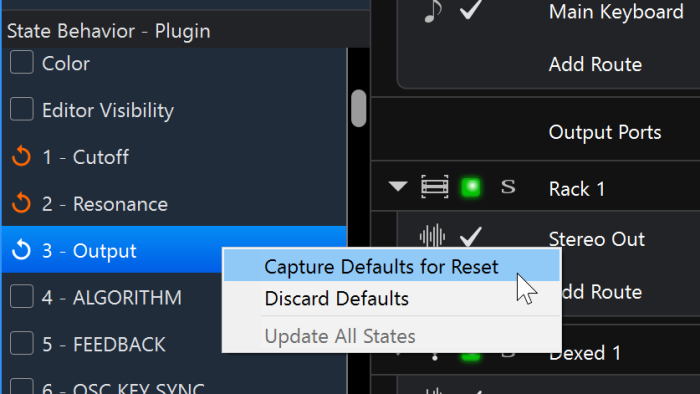 Cantabile is a music workstation with a fanatical focus on live performance – software that understands the unique demands of the stage musician.

Our software is unapologetically opinionated in the features it provides – features that have been carefully selected and meticulously designed based on feedback from a engaged group of customers who use it week in and week out.

Cantabile isn't perfect (what software is?) but we're dedicated to it, we're improving it every day and it's the best way we know to perform live.
Changes in Cantabile build 3258
New: State, Rack and Song Reset Support.
New: Gain Settings for Audio Ports.
New: Main Toolbar Level Meters and MIDI Activity Indicators.
New: Ability to Hide Ports from Monitor.
New: Real-time Transport Position in Status Panel.
New: By-Index Source Bindings.
New: String Bindings.
New: Sys-Ex Expressions.
New: Option to Disable Mouse Wheel in Knobs and Sliders.
New: Ability to Move Master Transport Position from Slave.
New: Suppress Note Ranges Filter.
New: Auto-Repeat Bindings.
New: Bindings for Octave Up/Down.
New: Bindings for Route Transpose.
New: Navigation Bindings.
New: Binding to Open/Close Rack Editors.
New: Note (Switch) Binding.
New: Option to Save Previous Version of Overwritten Files.
New: Command to Update All States.
New: Support for Program Numbers in the Ticker Bar.
Improved: Wave/Wave64 Recording.
Improved: Default Solo Control Setting.
Improved: Space Bar Transport Control while Editing Plugins.
Improved: Maintain Position in States Panel.
Improved: Plugin Parameter Editor.
Improved: Set List Menu Clean Up.
Improved: Fixed Right Click Bind to Route.
Improved: Set List Filter Command.
Improved: Set List Auto Scrolling.
The new Cantabile build (experimental) is now available for download.
Cantabile is available for purchase in Solo and Performer editions, priced at $69 USD and $199 USD, respectively.
More information: Cantabile