Homegrown Sounds has released version 1.5 of Cassetto, a cassette based synthesizer instrument for Native Instruments Kontakt.
With this update, Cassetto gets 16 Modulation Sequencer Modes, allowing the Mod Sequencers to be used without the ARP triggering notes.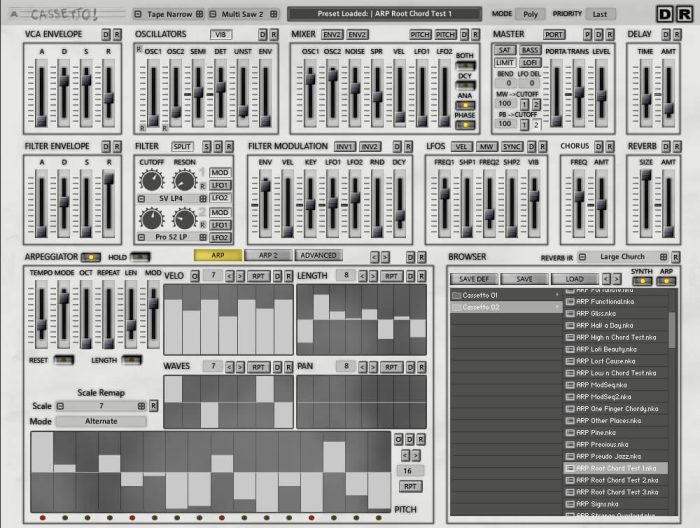 The idea behind Cassetto was to create a synthesizer which has an old and slightly faulty sound as well as a fairly fixed yet interesting architecture. The end result is a synth with it's own character and capable of some very unique tones. Although Kontakt is often used for complex samples, Cassetto uses sampled oscillators so that it is a true synthesizer and all sounds are constructed in the same way as any other subtractive synth, it comes with 200 presets with more to come, however it is also a synth that invites you to make your own.
Changes in Cassetto v1.5
Added Mute Buttons to Oscillators, these are temporary and reset when Cassetto is reloaded. They are used for isolating an oscillator when sound designing.
Added 16 Mod sequencer Modes to the Arp. These make use of the Pitch, Cutoff, Resonance, Decay and Release Sequencers without triggering any notes. It means that these sequencers can be used whilst playing notes normally.
Added a Menu for the ARP Modes which makes selecting easier and the selected mode can always be seen.
Cassetto is available for just $14.99 USD in the introductory Group Buy, which has 2 weeks left to go. Currently, 6 free bonus products are included with a purchase.
By request a couple of Bootleg titles have been released which add Cassetto scripted instruments to Multiverse Classics and Multiverse Calculus. These are available for $9.99 USD and $4.99 USD, respectively. You must own the original Multiverse release make use of them.
More information: Homegrown Sounds / Cassetto