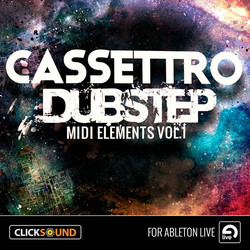 Clicksound has introduced Cassettro Dubstep MIDI Elements Vol. 1, an Ableton Live Template pack including presets for the Massive synthesizer by Native Instruments.
This rip-roaring MIDI construction template will whet the appetite of even the hardest of Dubstep fans and gives you the perfect opportunity to create your very own audacious Dubstep track. It's the first of many templates created exclusively for Clicksound by the truly bombastic Cassettro. What Cassettro does to a seemingly normal and innocent sound is almost indecent, and we love it! And now, you can get all this at your fingertips to play with, and play you shall!

Cassettro let's us in to his musical mind by expertly demonstrating the arrangement structure of Dubstep track, this template utilises the amazing power of Abelton Live's built-in Instruments and Effects and Native Instruments Massive. Each sound is mapped to one of Cassettro's unique Macros which allows you to easily control and automate elements such as filters, sample start, loop length, bend, EQ and distortion…in no time, you will be creating and sculpting your own equally unique sounds, transforming the template into your own truly original Dubstep track.
The template pack is available to purchase for £14.95 GBP.
More information: Clicksound