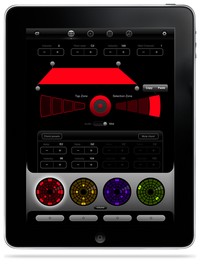 Casual Underground has announced version 2.4 of its Loopseque music app for iOS.
Loopseque it's a new music ecosystem which includes powerful sequencer, sampler, fx processor and record store with many beautiful releases from talented artists.
Changes in Loopseque v2.4
MIDI (iPad 2 or higher): Virtual, Dock connector, iRig works fine:

MIDI-out: Clock, Events, CC, Latency.
MIDI-in: Clock.

New layout for MIDI events setup on the Sample Editor screen:

MIDI note for each circle: channel, velocity, volume, root key.
Attack, Release, Start and Length for each note.
Chord maker presets.

New layout for MIDI assignable CCs:

4 pads for X/Y parameters, 2 sliders and 8 buttons.

Other features:

Retina Display.
Background audio.
New BPM control.
New Tools popover.
Minor GUI improves.
OMAC support.

Bug fixes:

WIST now works fine like master and slave.
Loopseque Store on iOS 6.
The Loopseque app is available to purchase for $5.99 USD.
More information: Loopseque