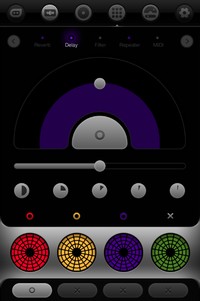 Casual Underground has released version 2.7 of its Loopseque Mini music app for iPhone.
Intergration with Audiobus and MIDI support allows to use Loopseque with hardware drum machines, synths and other iOS music apps.
Loopseque it's a new music ecosystem which includes powerful sequencer, sampler, fx processor and record store with many beautiful releases from talented artists.

Playing Loopseque doesn't require music education or any professional skills. An intuitive interface combined with inspiring sounds gives an opportunity to plunge into the world of music to everybody.

Loopseque serves as a catalyst for collective creativity both online and in real life. Here and now, any band can create its own music, easily and fun. Thanks to the social integration inside the app, all musicians can publish there records to the web and share projects with friends via e-mail.
Changes in Loopseque Mini v2.7
NEW EFFECTS SET:

Delay (two modes: stereo and ping-pong).
Filter (LP, HP and LFO).
Reverb (change size, wet/dry and dump).
Beat Repeater (reverse mode and manual quantize).
All FXs can be easily assigned to each of 4 channels, we call it one-button extra fast routing.

MIDI (iOS 6 or higher):

MIDI-out: Clock, Events, CC, Latency.
MIDI-in: Clock.
MIDI note for each circle: channel, velocity, root key.
Attack, Release, Start and Length for each note.
Chord maker presets.
Pad for X/Y parameters, slider and trigger buttons.

OTHER FEATURES:

Audiobus support.
Background audio.
New BPM control.
New Tools popover.
Minor GUI improves.
OMAC support.
Loopseque Mini is available to purchase for $0.99 USD.
More information: Loopseque