CD Sound Master announces the release of its ARQ Tride-N-Tru "A-Range" audio plug-in suite for Windows.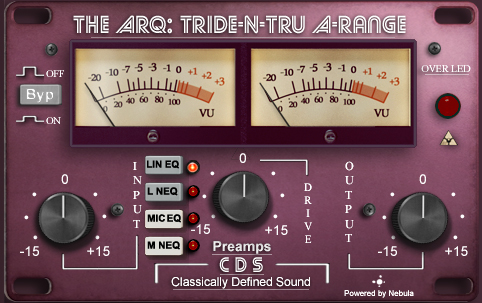 This collection is inspired by a rare and legendary vintage recording console, including an intricate and detailed emulation of the original circuitry, transformers, line and microphone preamps, and classic EQ.

CDSoundMaster, creator of the R2R Tape Collection, N-TEN-AT4, and other popular VST Plug-Ins, focuses on the absolute highest accuracy in sound of real analog hardware. Their software takes advantage of the modern computer's ability to run audio software that uses higher cpu resources for complex realism.

The ARQ Tride-N-Tru "A-Range" is built upon the "Acqua" sound engine, "Powered by Nebula Technology," an advanced form of audio generation called V.V.K.T., or Vectorial Volterra Kernels Technology.
ARQ Tride-N-Tru "A-Range" EQ and Channel Strip features:
Six Plug-Ins, including High EQ, High-Mid EQ, Low EQ, Low-Mid EQ, High-Low Cut EQ, and Preamps, which load the line signal path and microphone path both with eq engaged and bypassed.
All Frequencies and Gain Levels from the original vintage console are available with complete characteristics of the entire sound chain.
Acqua Stand Alone VST Plug-In for Windows VST featuring V.V.K.T. advanced sound engine.
True harmonic content that changes with every frequency and gain value.
64 Bit dynamic audio processing and 96kHz Actual Sample Rate with unmatched conversion quality to different rates.
ARQ for Windows (VST) is available for purchase for $79 USD.
More information: CD Sound Master