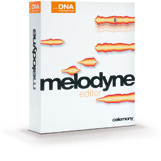 Celemony has released version 1.2 of Melodyne editor, assistant and essential.
The update brings 64-bit support and improved transfer handling as well as extending MIDI export to the plug-in implementations of Melodyne editor and assistant. Melodyne essential supports additional plug-in formats and can now also be operated in stand-alone mode.
Changes in Melodyne v1.2
More power and performance with 64 Bit

– The highlight of Version 1.2 is support for 64-bit operation, which in compatible DAWs brings great advantages: Melodyne can be used on more tracks and process longer transfers as well as being extremely stable in operation. Major gains have been made not only in terms of performance and reliability but also in terms of speed: the detection of the transferred material with Version 1.2 is up to 30 percent quicker – even in 32-bit operation.

Better handling, more DAWs

– The handling of transfer storage paths is easier in Version 1.2 and more transparent too. In many DAWs (currently Cubase 5.5, Nuendo 5, Pro Tools LE/MP 8.0.4, Pro Tools HD 8.1), the saving of transfers is even automatic in the current DAW project. The list of DAWs supported by Celemony and tested with Melodyne also includes from Version 1.2 onwards Sonar, Digital Performer, Nuendo and Studio One.

Melodyne essential also as AU, VST and stand-alone version

– The newly extended list of supported DAWs also applies to the edition Melodyne essential: this, from Version 1.2 onwards, has dropped the "RTAS" from its name, as it supports not only RTAS but also the AU and VST plug-in interfaces and can therefore be used not only with Pro Tools but also with other DAWs. Not only that, but Melodyne essential can also, if desired, now run in stand-alone mode just like Melodyne editor and assistant.

Compatible with each other

– Version 1.2 brings comprehensive file format compatibility between Melodyne editor, assistant and essential. The documents of each edition can now be opened in each of the other two editions and edited with the functions and tools the latter provides.

MIDI export in plug-ins

– The saving of audio as MIDI notes is a popular creative function in Melodyne editor and Melodyne assistant. It makes it possible, for example, to double a vocal line with a synthesizer sound. With Version 1.2, MIDI export is available not only in the stand-alone but also in the various plug-in implementations of Melodyne editor and Melodyne assistant, the result being for the MIDI data a significant shortening of the path to the DAW.
The update to Melodyne version 1.2 is free-of-charge for registered users. A new 30-day trial version of Melodyne editor (without any limitations) is available to download.
More information: Celemony