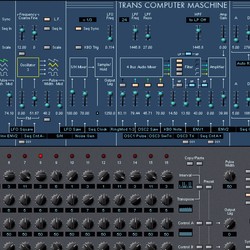 Cescato Musiktechnologie has released version 1.30 of the free Trans Computer Maschine synthesizer plug-in for Windows.
Trans Computer Maschine is a Semi-modular Vintage Lead Synthesizer + Pattern Sequencer modeled after two legendary mono synths and a custom analog sequencer from Germany.
Changes in TCM v1.30
Added 'Envelopes' gate input indicators.
Added 'Filter Cutoff Link' switch for band-pass use.
Added 'Filter' modulation indicators.
Added 'inverted Seq Cnt' modulation sources.
Added labels to Sequencer 'Skip' buttons.
Added middle position 'Preset' for Sequencer interval row.
Added 'MIDI Ch. Router'. input indicators.
Added mixer 'Oscillators Waveform' selection from GUI images.
Improved Sequencer transport section featuring status display.
The Trans Computer Maschine for Windows (VST) is a free download.
More information: Cescato Musiktechnologie