CFA-Sound has announced the release of FilterGrizzly2, a free filter effect plug-in for Windows.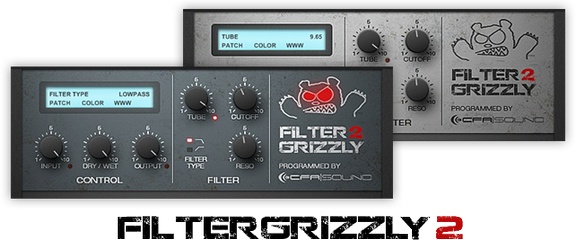 Finally, after some years in the dark the all-new FilterGrizzly 2 is available as free filter VST plugin! Rich on character and warmth, the completely overworked filter module is loaded with a tube-based filter drive unit for saturation, followed by an analog modelled 4-pole lowpass and 2-pole highpass filter with a passive controlled feedback circuit! The FilterGrizzly2 gives you nearly one-to-one the filter of the upcoming MonoGrizzly 2 synthesizer, all informations about that you can find here: blog/coming-soon-monogrizzly2
FilterGrizzly2 features
2x oversampling and anti-aliasing algorithm.
Tube-based filter drive unit.
Classic analog ladder filter design.
4-pole lowpass and 2-pole highpass filter.
Passive controlled feedback circuit.
New GUI with 2 different skins.
The FilterGrizzly2 plug-in is available as freeware for Windows (VST).
More information: CFA-Sound / FilterGrizzly2