CFA-Sound has announced the release of MonoGrizzly and FilterGrizzly LITE, two plug-ins for Windows.
CFA-Sound is now 2 years old, through this selected items are reduced by up to 50% for a short time.

Today is also a special day – CFA-Sounds first synthesizer see the light of the day – the MonoGrizzly. Next to that, the FilterGrizzly LITE is also released and ready for free download.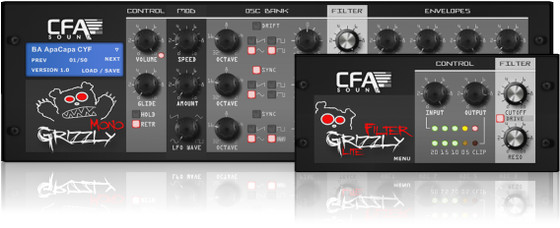 MonoGrizzly is a powerful monophonic synthesizer delivering nasty and raw bass and synth sounds, right next to smooth resonant sounds using the charming filter. Up to 12 waveforms at once, the sonic possibilities are simply outstanding sounding. A clear and intuitive GUI allows for easy and fast use.
FilterGrizzly LITE is the powerful analog-modeled lowpass filter of the MonoGrizzly which offers you a smooth and charming filter with self-resonance and fuzz-drive. The clear and intuitive GUI allows you a very simple usage combined with outstanding sound.
MonoGrizzly is now available to purchase for the introductory price of 40 EUR until 10 February, 2011 (regular 50 EUR), FilterGrizzly LITE is free. Both are VST plug-ins for Windows.
Available products in the 2-year anniversary sale:
E-Play Divorce AU/VST – 25% off (until 10 February).
All Sylenth1 soundsets – 20% off (until 10 February).
Bass-ID sample-pack – 50% off (until 28 February, then discontinued).
More information: CFA-Sound