Channel Robot has announced the release of a new melodic drone engine for Native Instruments Kontakt 5.8.1 or higher.
The first in a new series of instrument libraries, Atmosia offers a unique take on producing drone sounds, using Channel Robot's 4-voice Recoil playback engine.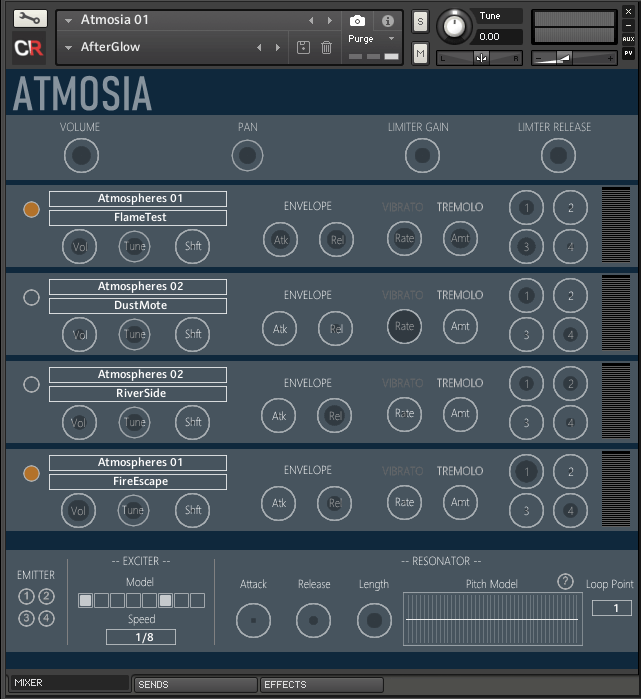 Atmosia includes a set of 50 custom designed drone sources created to provide long-evolving textural soundscapes. The sounds are carefully structured to allow them to be used in a melodic context – they are much more than normal one-note drone loops.
Atmosia's powerful 4-voice dual-channel engine offers you the sculpting and creative power to use 8 different sounds in your final playback.
Atmosia features
Select any combination of voices (including repeating the same voice but with modified settings for phase shifting and beating effects), each voice then passes through the standard channel, each with their own envelope, tremolo and vibrato modules.
Voices can be routed through the unique physical-modelling style exciter and resonator engines, where you can define exciter patterns and speed, attack, release and length as well as define a re-pitching sequence.
Each voice channel has independent volume, pitch and sample-start offset controls, followed by vibrato and tremolo sections as well as 4 independent effect slots where you can assign up to 4 effects. Each effect slot offers you 20 different effects to choose from.
Each channel has 4 send levels – which send to one of the 4 send effect slots. Each slot offers 6 different send effects.
Controls for overall volume, pan and limiter controls, as well as an intelligent randomizer to produce new an interesting drone-style sounds quickly and easily.
Includes 50 Snapshots to get you started.
The library is available for £15 GBP from Kontakt Hub. It is also included in Channel Robot's "Everything-4-Ever" subscription service.
More information: Channel Robot