Channel Robot has announced the release of its new FireWalker instrument, a hybrid pad synthesizer with 4 voices, in-line effects and an arpeggiator.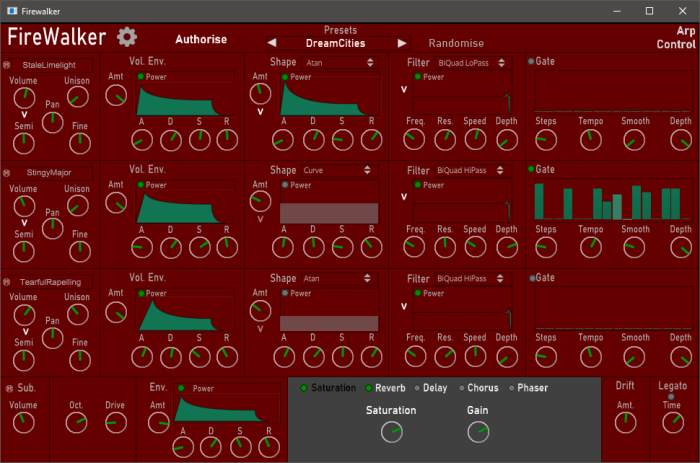 FireWalker comes with three unique hybrid oscillators, and one sub-oscillator.
Each of the three hybrid oscillators is set up to use any of over 300 sound sources custom designed to work as pad sounds. Each sound was built using our wave-table generating system – tho' Firewalker is not a wavetable synth in any sense. Simply click on a sound name and the Sound browser will allow you to select one of the sounds from the categories included. You can also note a sound as one of your favourites.

These oscillators are ideal for making moving evolving, emotive pad sounds, and when you combine three together you can get enormous long-running pads out of single note playback. Unlike "classic" hybrid-oscillators we dont do any time stretching, so the rate of change in each note is different. Normally this is a problem, but for pad based sounds like the ones here this adds to the sense of movement and variation.

The three hybrid oscillators pass through a volume envelope and the wave-shaping module from our wave-shaping synth Shapiro. The audio then passes through a multi-mode filter and on into a sequenced volume gate. The output of all four voices is then combined and passed through the effects section, then through our "Drift" analog-tuning emulation engine and into a legato system derived from our work on orchestral ROMplers.
Firewalker features over 100 presets and a randomization function to create your own evolving pad sounds.
The instrument is available in VST/AU plugin formats and standalone software for Windows and Mac. It has an intro price of £30 GBP (regular £50 GBP).
More information: Channel Robot