Channel Robot has announced the release of FreeForm, a free rompler instrument for Native Instruments Kontakt featuring version 2 of Channel Robot's Formula engine.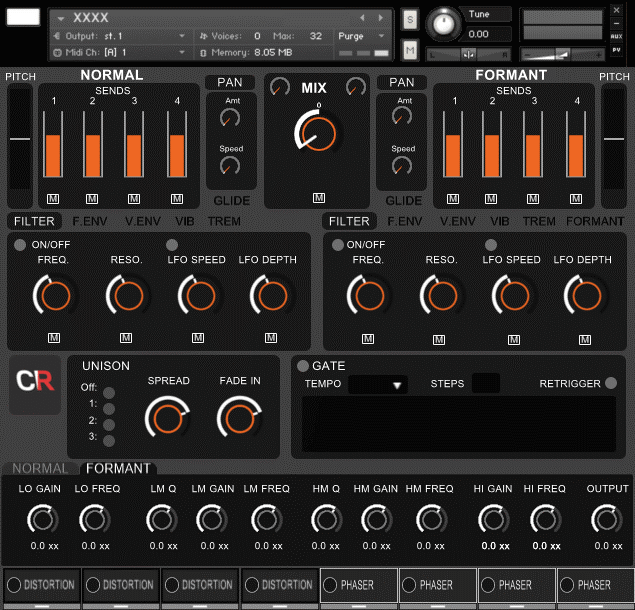 Included in FreeForm Volume 1 are 40 individual Kontakt instruments covering a diverse range of usable sounds in over 1GB of uncompressed material.
FreeForm features
Dual Voices – Standard and Formant based.
Separate Voice tuning – in semi-tone increments. (New Feature)
Separate Voice Gain Stages. (New Feature)
Individual Pan, and Glide controls.
4 separate send effect controls for each voice.
Each voice has independent:

Low pass filter. (New Feature)
Filter LFO. (New Feature)
AHDSR Filter envelope. (New Feature)
Volume attack and release settings. (New Feature)
Vibrato LFO.
Tremelo LFO.

The Formant Voice also has:

Formant control.
Formant Speed control.
Formant smoothing control.

All instruments additionally feature:

Note unison (up to 4 separate voices per note including spread and fade times)
Trance Gate – including tempo, number of steps, and gate retriggering.
Extensive modulation system, with nearly all controls modulatable with tempo-syncing, one-shot, retriggering and controlled randomisation (New Feature).
Extensive ChannelRobot Effects controls. Each voice has 4 independent effects slots with selection from over 20 effects in each slot, plus 4 send effects slots with 5 FX options in each.
FreeForm for Kontakt 5.5 (full version) is available to members of the Channel Robot site (membership is free).
More information: Channel Robot