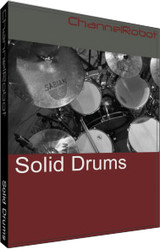 Channel Robot has announced the release of Solid Drums, an audio sample library featuring over 1.7 GB of wav files, Kontakt, Battery and Guru Kits, Instructional Videos, MIDI files and KSP plug-ins.
Designed as a "foundation library"strong on high quality flexible samples for standard kits and percussion, Solid Drums V1.0 featuring over 100 kits, more than 470 instruments utilising some (but not all) of over 16,000 24-bit hand crafted wav files and more than 20 Kontakt 3+ compatible custom built KSP scripts.
Solid Drums V1.0 is now available to purchase for $29 USD.
Included in this price is 6 months access to the exclusive Solid Drums Members Area, where customers will get access to product additions (Channel Robot plan to add new kits and sounds every month for the next year at least), updates, support and co-owner forums.
More information: Channel Robot / Solid Drums