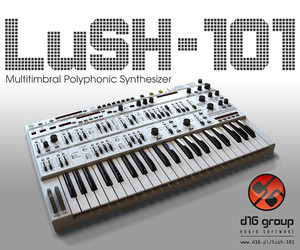 Che has released Solar System, a free soundset for the LuSH-101 synthesizer instrument by d16 group.
Thanks to the D16 Team, the Virtual Synthesizer LuSH-101 have a realy good workflow, a big clear Graphical User Interface, 8 independent Layers, a cool Browser, Superb Sounds, CPU friendly & cheaper and a bit better than the Original Roland SH-101.

Hi, D16 Group – LuSH-101 User's, Music makers, artists and aliens, here is a fresh, pulsating, energetic and handmade Soundset by Che.
Solar System features
128 presets for LuSH-101 (.shprst & .shtmbr).
Sound design by CHE (Sonic Sirus).
100% royalty free.
Genre: Modern Synth – Electro.
The soundset is available to download from Patch Arena.
Visit Solar System for more information.