2getheraudio has announced an update to the Cheeze Machine PRO software synthesizer. Version 1.2 now comes with micro-tuning options.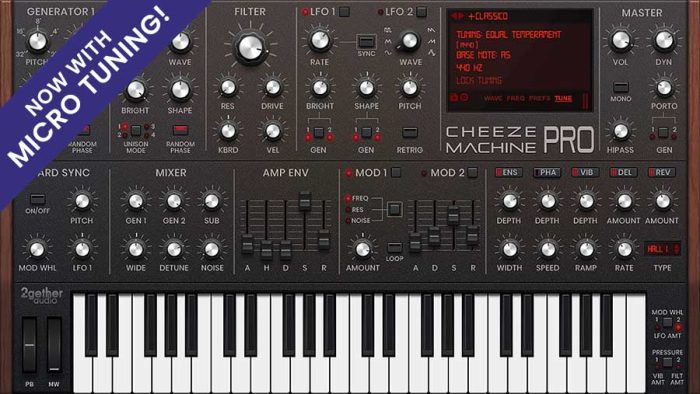 Cheeze Machine PRO is here, and this time it's fattier than ever. Fat multi-functional Tarabbia oscillators, a fat warm filter with overdrive and extra resonance, fat hard-sync mono leads, new effects, and modulation options to make your sounds really sing. This is the best Cheeze Machine to date, so grab a hold of it, sit down, and start gorging.
Changes in Cheeze Machine PRO
Support for Micro Tuning.
100+ SCALA micro tune scales included.
Make your own scales using SCALA.
Pitchbend support for micro tune scales.
Adjustable base note and frequency for micro tune scales.
Lock Tuning feature.
Cheeze Machine PRO comes in VST, AU and AAX plugin formats and standalone software for Windows and Mac. It is available as a "name your price" download with a minimum of $10 USD.
More information: 2getheraudio