Cherry Audio has announced the release of the Cherry Audio Synth Stack, a bundle of 4 of its synthesizers at a discounted price.
The collection includes:
The Synth Stack bundle costs $199 USD. As part of Cherry Audio's Black Friday promotion you can purchase it for only $89 USD for a limited time. All included instruments are available for both Windows and macOS, in AU, VST/VST3, AAX, and standalone formats.
The Surrealistic MG-1 Plus is also available separately as a free download. This synth is based on the Realistic Concertmate MG-1 which was built by Moog for Radio Shack.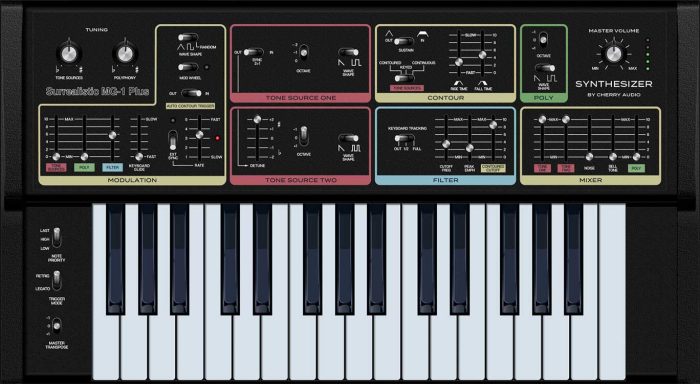 The year was 1983. We spent the summer delivering newspapers, saving every dime we could, with one goal in mind. Radio Shack was blowing out the Realistic MG-1 Synthesizer for half price – only $249 – and by the end of the summer, the MG-1 would become our very first synthesizer!

Cherry Audio is pleased to announce the release of Surrealistic MG-1 Plus, the latest in our expanding lineup of virtual instruments. Based on the Realistic Concertmate MG-1 synthesizer sold by Radio Shack from 1982 until 1983, the Surrealistic MG-1 Plus is an incredibly accurate recreation that takes the concept of the MG-1 to new heights while retaining the character and soul of the classic original, all for the low, low price of absolutely FREE.
Other products are on sale at up to 65% off during the Cherry Audio Black Friday 2020 Sale, which ends midnight Cyber Monday, November 30th, 2020.
More information: Cherry Audio