Resomonics has released ChillerScapes, a free Kontakt instrument that features a collection of chilling atmospheres and drones for horror.PULSING RHYTHMS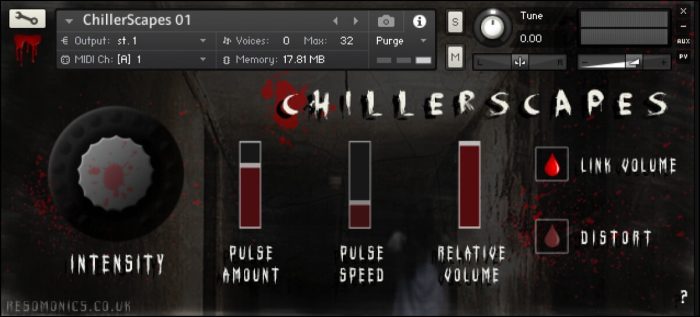 ChillerScapes offers a simple interface, allowing you to create evolving sounds with ease by holding notes and turning the Intensity knob.
The library comes with 13 ambiences and 5 drones, each with 3 layers of samples taken from Reflection.
'ChillerScapes' was born out of my love for Horror, but also working on version 1.7 of my debut sample library, 'Reflection'. I added a Soundscapes category in version 1.6 which was produced by mangling the samples in various different way, and in version 1.7 I add some. Whilst working on that I thought it would be useful if you could have a single knob which would evolve the sound and make it more intense, but that would be too much work for Reflection, and not really in-keeping with it.

So, 'ChillerScapes' was born. It was a welcome distraction as well as good scripting practice, and came out just as intended!
The library is a free download for the full version of Kontakt 5.7 or higher (Kontakt Player not supported).
Check the Kontakt Freebies list here at Rekkerd for more free downloads.
More information: Resomonics / ChillerScapes