To get you into the holiday spirit, Arturia is offering a free gift for musicians, producers, and sound designers worldwide. The Chorus JUN-6 is modeled after the iconic analog stereo effect found in the Roland Juno series of analog polysynths from the '80s.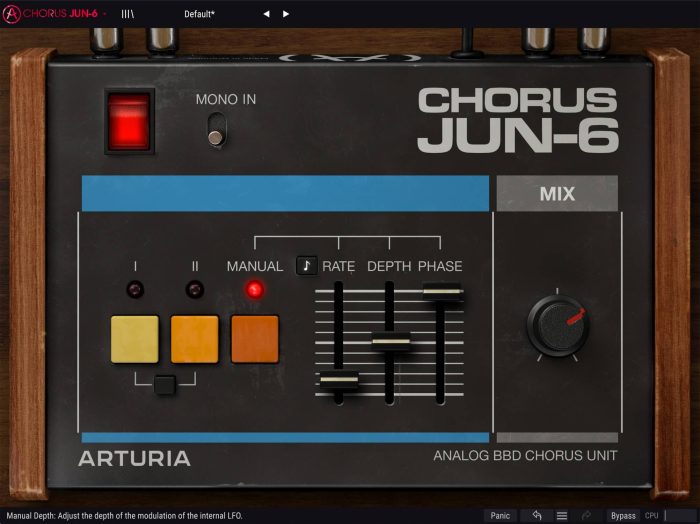 The circuit-perfect emulation of the timeless Juno synthesizer chorus is taken from the recently released JUN-6 V software synth.
A recreation of a rare and much-loved analog gem, bringing unique BBD imperfection and the easiest set of FX controls you've ever seen for effortlessly warm analog grain. The Juno chorus is unique in its popularity – rather than being a pedal, a rack-mounted unit, or a secret studio weapon, it was built into the classic '80s synths of the same name. But it was more than just a component. More than a handful of controls at the end of the chain.

Its beautiful stereo width, warm BBD analog color, and button-operated simplicity was – and still is – irresistible. The 3-mode design has been meticulously analyzed and reproduced to behave just like the original, right down to the LFO frequencies. Instant, classic variants of rate, depth, and stereo spread. To take it further, we added a Manual mode to access some familiar modulation flexibility – just in case.
Chorus JUN-6 features
Accurate recreation of the 2-mode Roland Juno 6 chorus.
Includes the original I+II position for vibrato-like sound.
Additional Manual Depth and Rate controls for custom settings.
LFO Phase knob allows for width adjustment.
Sync to host tempo option.
Mono/stereo input and Dry/wet Mix controls.
Chorus JUN-6 is available as a free download until December 29th, 2020. It comes in VST/VST3, AU and AAX plugin formats for Windows and Mac.
More information: Arturia