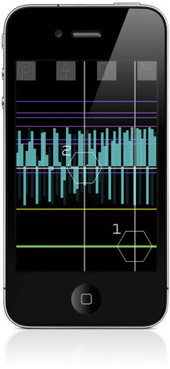 Chris Jeffs has released Monnix, a performance synthesizer app for iPhone and iPod touch.
Is that a cat's meow, a vocodered scream or an out of control robot? What kind of strange sounds could you make with Monnix?

Monnix is a new live performance synth app for the iPhone and iPod Touch which allows you to take control of up to 16 harmonics, for unique sound effects.

Movements can be replayed and altered, the Sample & Hold screen freezes the partials according to the selected tempo, and the synth settings can be customised, allowing for a wide variety of sonic mayhem.

Whether you need something extra for your next experimental concert, or you just like to have fun making weird noises, Monnix has something to offer you.
Monnix features
A harmonics-based synthesiser App for iPhone and iPod Touch.
Use up to 3 points of touch to control the distribution of the harmonics and the LFO parameters.
3 performance modes: Perform, Replay and Sample & Hold.
2 synth parameter pages allow envelope, FM and Jitter settings to be altered, for a wide sound palette.
Distinctive minimal aesthetic.
Fun to use as a sound effects toy in addition to being a live performance synthesiser.
Monnix for iOS 4.2 or higher is available to purchase for $2.99 uSD.
Visit Monnix for more information.