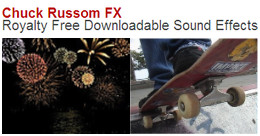 Chuck Russom FX has announced the release of Fireworks "Limited Edition" and Skateboard, two new sound libraries.
Fireworks is a special "Limited Edition" library. It features 40 24bit 96K sounds and is available to purchase until July 31, 2010, priced at $5 USD.
A few years back, I recorded some small fireworks to have for my sound library. These sounds have proved useful over the years when designing sounds like magical effects, energy weapons, explosions and others in that vein. Though I have just a handful of these sounds to offer, I thought it would be fun to put them out as a low-cost, limited edition "mini library".
The Skateboard sound library includes 94 24bit 96K sounds and is available to purchase for $20 USD.
There really are not a lot of skateboard sounds available in existing libraries. I found this out the hard way last year when I needed some sounds for a skateboard project. Though my needs were simple, I couldn't find the sounds I needed in the usual libraries. So, I grabbed a mic, recorder, skateboard, and someone to ride, and spent a day recording skateboard sounds. Seeing these sounds in my library, I thought that other people might find them useful, so I decided to offer them up as a new collection.
More information: Chuck Russom FX