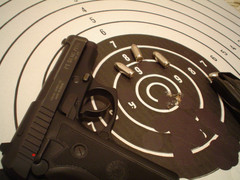 Chuck Russom has released Gun Handling HD PRO, a sound fx library featuring sounds from guns.
Gun Handling is a collection of Gun Mechanism and handling sounds. Featuring sounds from 13 different rifles, handguns, and shotguns. Included are sounds such as: gun cocking, magazine inserts/removes, bullets being loaded, dry firing, and more.

All sounds are newly recorded and mastered at 24bit 192K using a Sennheiser MKH800 high res condenser mic and a AEA R84 Ribbon mic. Both mics were run into Great River mic preamps to help make the sounds phat and huge.
Gun Handling HD PRO features
417 Sounds, 24bit 192K and 24bit 96K versions included.
13 guns:

Kimber 1911 .45 ACP Semi Auto Handgun
Smith & Wesson 686 .357 Magnum Revolver
Smith & Wesson SW9VE 9mm Semi Auto Handgun
Walther P38 9mm Semi Auto Handgun
Walther P99 .40 caliber Semi Auto Handgun
Mossberg 500 Pump Action Shotgun
1897 Coachgun Double Barrel Shotgun
Ruger 1022 .22 Semi Auto Rifle
Ruger Mini14 .556 Semi Auto Rifle
Saiga 7.62x51mm Semi Auto Rifle
SKS 7.62.39mm Semi Auto Rifle
Mosin Nagant M44 7.62x54R Bolt Action Rifle
Marlin .357 Magnum Lever Action Rifle
Gun Handling HD PRO is available to purchase for $49 USD.
More information: Chuck Russom FX