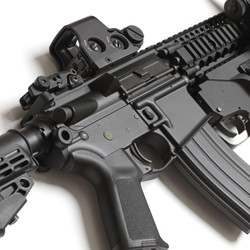 Chuck Russom FX has announced the release of Single-Serving Gun Packs, a collection of sound fx packs taken from the Guns: Vol 1 sound library.
Sometimes you need gun sounds, but you don't need a huge collection of them. We heard you and we've got you covered. Announcing Single-Serving Gun Packs. All of the guns from our Guns: Volume 1 Sound Library, now offered individually.

Each gun has multiple takes and includes sounds from 10-16 microphone positions, covering close, medium, and distant perspectives. These are the same sounds from our larger bundle, but you now have the option of purchasing a gun at a time. A great option when you just need a couple of guns to finish your project.
The Gun Packs are available for purchase starting at $20 USD.
More information: Chuck Russom FX / Single-Serving Gun Packs