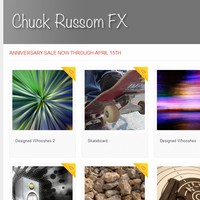 Chuck Russom FX has launched an Anniversary Sale, offering its sample libraries at a discount for a limited time.
It's Chuck Russom FX's third birthday and we are celebrating with a big sale. Every library is on sale for 2 weeks.

Visit www.chuckrussomfx.com to see all the deals
The sale ends April 15th, 2013 12:00am PDT.
More information: Chuck Russom FX