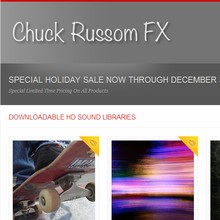 Chuck Russom FX has announced a Holiday Sale, offering discounts on all its sound libraries.
Happy Holidays, Everything is on sale!

By popular demand, my Black Friday sale has been extended until the end of the year (or, I guess when the Mayan calendar ends, if you're into that doomsday stuff)

Every product is on sale. Some products are as much as 50% off. I'm pretty much crazy for doing this, so get in on it while it's still good.
The sale ends on December 31st, 2012.
More information: Chuck Russom FX