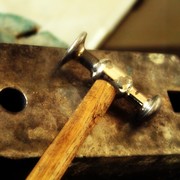 Chuck Russom FX has announced the release of Metal Impacts HD PRO, a new sound fx library.
Metal Impacts could be called a sword library, but no actual swords were used to create it. My goal was to put together a set of sounds that could be used to design swords and other metal weapons, though with a creative imagination, you'll find many uses for these sounds. I sought out pieces of metal that I felt had great sonic quality when they were struck together.

12 different metal props were used in a variety of ways. There are solid hits with nice metal ring outs, fast muted hits, and some really great metal scrapes. There is also an insane amount of takes and variety in this library. My arms and ears cringe just thinking about the work that went into creating this one!
The Metal Impacts HD PRO library includes 974 sounds (24bit 192K and 24bit 96K versions included) and is available to purchase for s special introductory price of $39 USD through January 21, 2011 (regular $49 USD).
More information: Chuck Russom FX