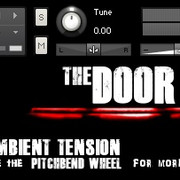 Cinematic Tension has introduced The Door, two sample libraries featuring creepy ambiences and percussion for ambient scoring.
If your next project takes you to the deepest and darkest depths of a dungeon, basement, or into a serial killers house, THE DOOR would be a perfect companion to bring along. Recorded from a 10 foot metal barn door (as well as a few other small found items in the barn itself) the door is an ambient horror scoring juggernaut consisting of two seperate packs. One is centered around deep, dark, and low end percussion perfect for subtle stingers or heart pumping chases, while the other consists of a series of pads, buildups, and drones to help augment the horror or tension of a scene / level.

THE DOOR is presented as two seperate packages, one centered around PERCUSSIVE elements, and the other around AMBIENCES such as pads, buildups, etc etc.
The Door sample libraries (percussive & ambiences) for Kontakt are available to purchase for $15 USD each.
Visit Cinematic Tension for more information.