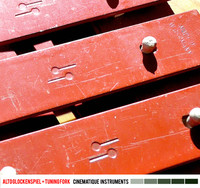 Cinematique Instruments has released Alto Glockenspiel, a sample library for Kontakt.
The Alto Glockenspiel is a percussion instrument, composed of a set of tuned metal bars resting over a frame like a trough. Contrary to our "Small Metal Set 1″ which contains the Glockenspiel, this time we used the alto version of this legendary red model of Hohner™ with an one octave lower range, which sounds more soft and mellow. As a bonus you get two patches of a giant tuning fork with a size of 11", made of solid material, which we found in a smithy.

We recorded the metal bars of the Alto Glockenspiel beaten with thin sticks and soft mallets, in 2 or 3 dynamic layers and three Round Robin variations, mapped in a range from C2 (C1) to F5. There are programmed scripts and fx to provide a lot of opportunities. The Huge Tuning Fork was beat with a 5kg hammer. Additionally we recorded along the surface with our special microphone movement to get different characters of the long lasting sustain.
Alto Glockenspiel features
Alto Glockenspiel Gentle (soft and mellow, reminds of a celeste)
Alto Glockenspiel Hard (hard sound, fx and script)
Alto Glockenspiel Mallet (played with mallets, fx and script)
Alto Glockenspiel (pure sound)
Huge Tuning Fork Texture (long lasting texture, modwheel adds noise)
Huge Tuning Fork (pure and deep)
Alto Glockenspiel for Kontakt 3 or higher is available to purchase for 16 EUR.
More information: Cinematique Instruments / Alto Glockenspiel