Cinematique Instruments has announced version 1.5 of Ensemblia, an update to the modern chamber orchestra instrument library for Native Instruments Kontakt.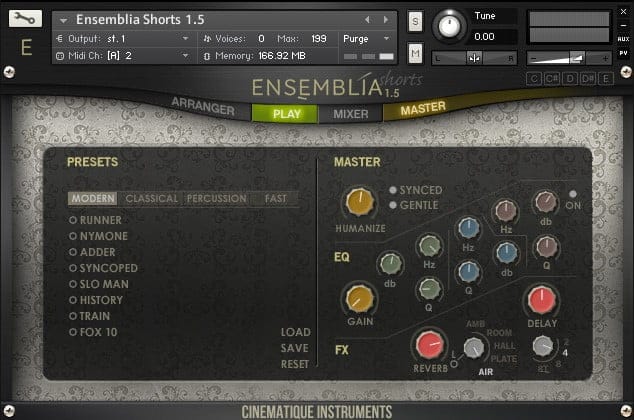 Ensemblia 1.5. has a brighter, more transparent and even more natural sound and a lot more instruments than the previous version. This makes is more versatile in a wider range of styles.

Further, Ensemblia 1.5. is equipped with freely assignable slots, which enables you to set and define your own individual instrument mix. Simply select what you want to use from the new instrument menu. You can now use Ensemblia 1.5 with flexible routing options. Just assign each instrument to an separate out and create your individual mix with your DAW.

On top of all that Ensemblia 1.5 now has a freely adjustable humanize knob, a 3 band parametric master EQ and a lot of new presets.
Changes in Ensemblia v1.5
New instruments:

Double Bass (leg, spicc, stacc, pizz).
Bowed Guitar/ bass (shrt, arco, tremolo).
Tuba (longs).
Bass Trombone (longs).
Magnus Organ (longs).
EK-470 E-piano (longs).
Saw Synth (shorts).

New featrues:

free assginable slots, this lets you set your own instrument mix.
separate outs per slot.
a free adjustable hunamize knob.
a 3 band parametric master EQ.
tempo mode swing (8th and 16th).
a lot of new presets.

Improvements / Bug fixes:

entire sound improvement of Ensemblia (edit of all instrument- and fx settings).
displays the selected key-switch.
new solo button.
performance of the arranger.
improved GUI.
Ensemblia 1.5 for Kontakt will be available on June 23rd, 2015, priced at 219 EUR. Requires Kontakt 4.22 full version. Ensemblia is now on sale for 149 EUR (until June 23rd).
More information: Cinematic Instruments