Cinematique Instruments has announced the release of two new Gecko instruments for Native Instruments Kontakt.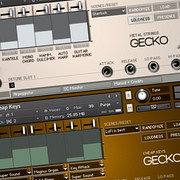 Metal Strings – This gecko contains all the strings of the Cinematique Instruments Library in one patch: Autoharp, Celtic Nylon Harp, Kantele, Monochord and the newbies Hammeres Dulcimer and Guitar Harmonics! The right instrument to give your music a bright shimmer. You get wonderful options to mix them all as you like. Maybe a notch more Kantele? Sherlock Holmes sends you his regards!
Metal Strings provides a brand new feature of Gecko: A solo switch to hear each sound slot separately.
Cheap Keys – Odd and headstrong! This gecko shines with an unusual and exceptional assortment of keyboard sounds such as old rhodes, cheap synthetic e-pianos or charming organ sounds – enriched by various vintage synths, lo-fi guitars and noises.
Did you know what it sounds like when you combine Grandma´s Piano, a Super Sound and a C64 Piano?
The Gecko instruments are available to purchase for 33 EUR each, or for 175 EUR for all 7 Gecko instruments (prices excl. VAT).
More information: Cinematique Instruments / Gecko