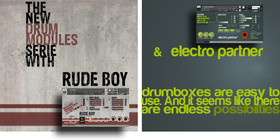 Cinematique Instruments has released Electro Partner and Rude Boy, two new Drum Boxes sample libraries for Native Instruments Kontakt.
The basic principle of DRUMBOXES is a four fold layer drum set with loads of edit options adjusting the right screws!

The DRUMBOXES are equipped with an interesting selection of sounds: Beach Towel Drums, Rehearsal Drums, Toy Drums, Glitchy Cans, Rhythmus Partner, Noiz & Raw, Electro 20
Drum Boxes features
The drum module

:

4fold layered drums: it gives you the ability to use it all-day.
Separate tuning knobs of bass drum, snare, hihat and percussion.
Separate knobs to adjust the length for each of the four bass drums and snares.
Separate volume fader for each of the four snares, bass drums, hihat and the percussion.
Global EQs (highpass, lowpass).
Global reverb fader to set the reverb amount of 4 different choosable rooms (arena, club, bath and plate).
Four timbre switches (loudness, presence, rotator, amped).
Load/save feature to save and recall the complete drum setting.
Randomize: the famous function delivers uncountable variations and endless possibilities.

The 16 step sequencer

:

Synchronized to our host as well as standalone with the essential features.
Easy sequencer workflow (1 click set the note, a 2nd to increases the velocity level, 3rd click to remove).
4 of 7 instruments are selectable out from 9 different instruments such as toms, wood, click, cymbals etc.
Various signature from 16/16 to 4/16 – necessary to realize signatures such as 6/8 (=12/16).
Double or half time mode.
3 shuffle modes, which correspond to the percentage of 25%, 33% an d 52%.
Electro Partner and Rude Boy (Kontakt 4.22 or higher required) are available to purchase for 33 EUR each, or bundled for 49 EUR.
More information: Cinematique Instruments