Cinematique Instruments has announced the release of Ensemblia Metallique and Ensemblia Stringed, two new flavors in the Ensemblia family of Kontakt instruments.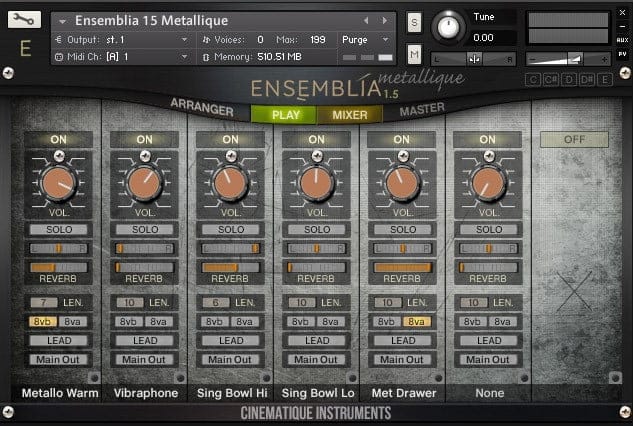 Generally, the Ensemblia family was built to easily create beautiful polyphonic arrangements and textures while you are just playing chords or single notes. We didn´t recorded phrases, a powerful 16step arranger will do it. E

Both patches are equipped with a voicing engine that lets a user spread certain voices to particular instruments. While playing notes or chords Ensemblia automatically analyzes the playing and splits all incoming notes into 5 voices which are low – midlow – mid – midhigh – high. A user can separately assign these 5 voices to each instrument at their own requirements.

The arranger is a 16-step ostinato engine that sets the velocity, the voicing and the octave for each step and instrument separately. It plays the flexible pattern using only notes and chords that are held down. As a result a user can get versatile and inspiring musical patterns and riffs playable in all ranges and speed variations. There are no pre-recorded phrases. Optionally a user can play in- or off-sync.
New Ensemblia instruments
ENSEMBLIA Metallique is focused on all kinds of metallic mallets such as vibraphone, glockenspiel, metallophone or kalimba, asian sound sources such as singin bowls and tingshas and domestic percussive sounds such as a wok, a salad or a drawer.
ENSEMBLIA Stringed focus is set on traditional and unusual string instruments in all shapes and forms such as Autoharp, Banjo, Hammered Dulcimer, Lute, Guitar Harmonics, Monochord, Nylon Harp or Zither.
Ensemblia Metallique and Ensemblia Stringed are available for purchase for 115 EUR each. A collection with all 3 Ensemblia is 325 EUR.
More information: Cinematique Instruments