Cinesamples has announced the release of a new title in its Artist Series. Randy's Prepared Piano brings a collection of 3 pianos recorded at the MGM Scoring Stage and Hollywood Scoring Studios Stage in Los Angeles, California.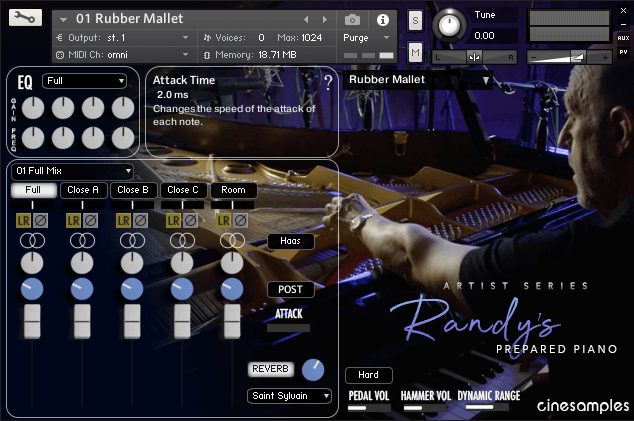 The instrument library features various extended techniques used by Los Angeles studio musician, Randy Kerber.
Several years ago at a recording session at The Bridge, we were recording Nami's Theme, a spacious piano duet between Randy Kerber (piano, Randy's Celeste), and Amy Tatum (flute). During one of the breaks, Randy started playing with some museum putty inside the piano, giving the instrument a delicate, masked and suggestively underwater tone. It was such a clever and unusual sound that we decided to build an extended piano solo completely out of Randy's prepared piano techniques in the middle of the duet (you can hear it at 2:34 in the Nami's Theme link above).

We always spoke of recording a sample library of those sounds and more, and this year, we finally got around to it. Renowned for his sensitivity and tone, Randy is one of the greatest film musicians of all time. Though he mostly composes music now, we were able to get him down to the studio to lead this project.
Randy's Prepared Piano is on sale for the intro price of $99 USD (regular $129 USD). Requires Kontakt 5.6.8 or higher, full version.
More information: Cinesamples