Cinesamples has launched Ancient Bones, a Kontakt instrument collection of a Death Whistle, Trident Shell, and a Femur Trumpet.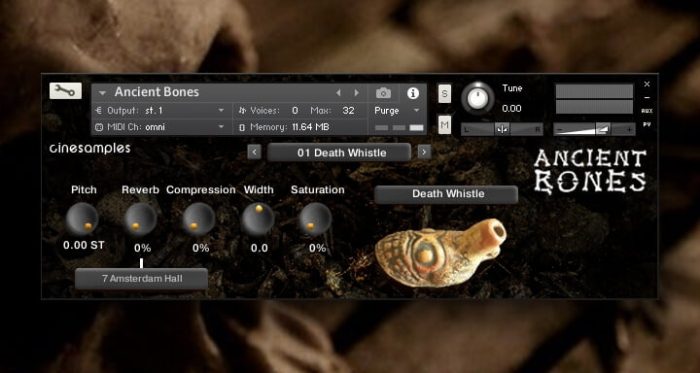 While recording at the MGM Scoring Stage at Sony Pictures Studios in Los Angeles, we brought in 3 bizzare instruments and recorded them during a dinner break. We thought these are too good not to release.

Not just for Halloween, these interesting and terrifying sounds can find their way into a variety of musical and sound design applications. The three main instruments are a Death Whistle, Femur Trumpet, and a Conc Shell.
The Death Whistle is a clay resonator that originated in ancient Mexico. When blown, they can produce special sounds imitating animal calls, the noise of the wind or storms, and horrific screams.
The Trident Shell is essentially a conc shell – a wind instrument that is made from a seashell.
The Femur Trumpet (Kangling, literally meaning leg flute) is a horn made from a hollowed-out human femur.
Ancient Bones for Kontakt v5.6.8 or higher (full version) is available for $9.99 USD.
More information: Cinesamples