Cinesamples has announced the release of CinePiano, a versatile piano library that features four distinct sonic characters.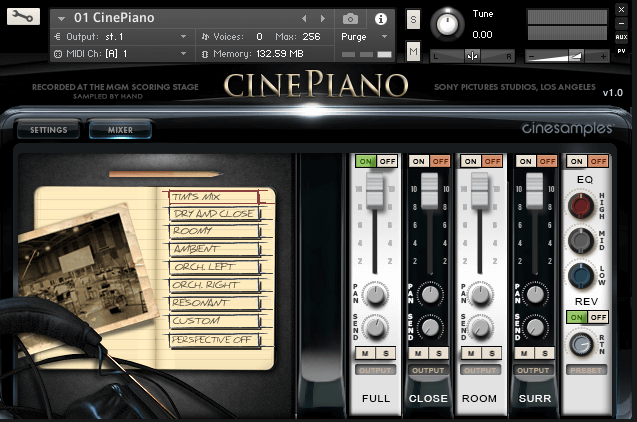 CinePiano is the modern follow-up to the popular Piano in Blue library.
How do we follow an act like Piano In Blue? We record a stunning 9′ grand piano at the MGM Scoring Stage at Sony Pictures Studios in Los Angeles.

Our goal was to record a detailed piano library at the same scoring stage as our flagship CineSymphony libraries for seamless integration and to provide four distinct characters of the piano through a variety of microphone and mixing techniques.
CinePiano features
4 unique characters: CinePiano, Classical, Cinematic and Rock Studio Grand.
Perspective Mode feature allows for changes through microphone positions.
Pedal Behavior modelling for a much more lifelike performance.
Character knob which acts as a macro knob, controlling multiple parameters at once.
Soundboard emulates the sympathetic resonances of the soundboard and other strings.
Dynamic Range control including fff Layer button.
RR Borrowing employs surrounding notes as additional round robins.
Velocity Curve control to dial in exactly the dynamic you are looking for.
Release and Pedal Volume for the release samples and pedal up/down volume.
Compatible with Native Instruments NKS.
CinePiano is on sale for the intro price of $179 USD through April 11th, 2018.
More information: Cinesamples