Cinesamples has announced the release of CineSymphony LITE, a comprehensive sketch tool recorded by industry veteran Dennis Sands at the world famous MGM Scoring Stage at Sony Pictures studios in Los Angeles.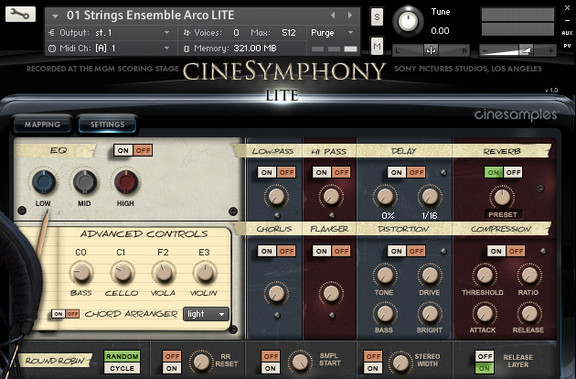 CineSymphony LITE covers all the essential instruments from the string, brass, woodwind, and percussion sections and is designed to give students and professional composers a solid starting foundation in their music scoring palette.

According to co-founder of Cinesamples, Michael Patti, the origins of CineSymphony LITE came from a familiar problem for composers. "I was trying to sketch ideas down for an upcoming project, and I was out of town. I really wanted to use our larger CineSymphony products on a laptop, but our libraries are deep-sampled and intended for professional composer studios." This made the Cinesamples founders realize the gap in the market for a sketch library for professionals and also a smaller scale CineSymphony collection for students. Says Patti, "back when we were students, it was a challenge trying to find really high-quality libraries at a price we could afford. CineSymphony LITE is our solution to this problem.

Maintaing the professional sound and simplicity of their full CineSymphony line was especially critical to the company, says Michael Barry, co-owner of Cinesamples. "This library was designed by composers, for composers, with direct feedback from the film community during its development. We always want our libraries to be composer-friendly and sound professionally mixed right out of the box, and CineSymphony LITE is no exception."

CineSymphony LITE is especially revolutionary in its ability to recreate the sound of the orchestra with minimum system specifications. CineSymphony LITE includes the principal instruments of every section and their most common articulations in stunning detail and unparalleled recording precision. Each instrument was meticulously sampled for the CineSymphony Core line to capture the unique Hollywood sound. By extracting the essential samples from its CORE-line, Cinesamples has created a product less demanding on lighter systems while still maintaing the usability that its customers have come to expect from its CORE-line.
CineSymphony LITE for Kontakt is available for purchase for $399 USD / $199 USD (educational license).
More information: Cinesamples / CineSymphony LITE