Cinetools has launched Mist, a new sound library that uniquely blends the genres of mystery, crime, thriller and supernatural fiction.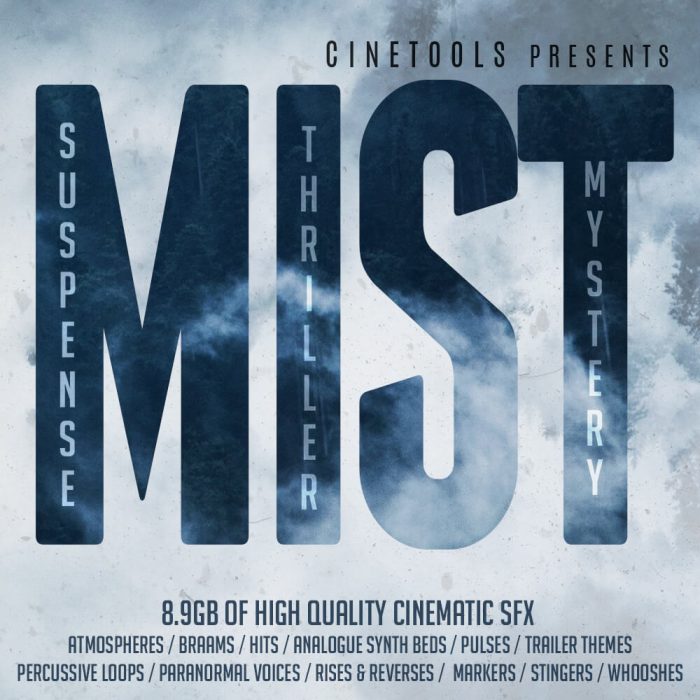 The huge 8.89GB pack includes 631 designed SFX and 381 designer tools.
This enigmatic library featuring over 1000 captivating sound effects, covering a wide range of components all are combined with suspense, horror and sci-fi moods perfectly and opens a new world of creativity.. So be warned, once you dive into the universe of Mist your imagination will start working tick-tock, tick-tock and then you won't be able to stop it!

Mist' includes all the necessary elements you need to create mysterious projects from scratch or accenting moods to any existing one. This peerless library provides a massive amount of intriguing sounds such as intense atmospheres and unnerving ambiences, epic rises and ethereal melodies, energetic pulses and oppressive designed cinematic sequences, menacing deep brass and reverberant percussions, chaotic impacts and imposing hits, disturbing soundscapes and dark stingers, dramatic pianos to epic orchestral phrases, terrifying shockers to deepest booms, innovating whooshes and powerful transitions, deafening crescendos and deep pounding drums, and more. All is right here and ready to use, just inject them to fill in something that is missing in your old project OR mix them with other elements to achieve totally unique and different sounds.

Every sound in "Designed SFX" folder was meticulously recorded at 24bit / 192kHz, designed and delivered in industry-standard 24bit / 96kHz to ensure the highest quality for today's cinematic production needs and the "Designer Tools" comes with an incredible sample rate of 192kHz/24bit to give you the best quality for extreme pitch-shifting and FX processing while keeping a top notch level of clarity and precision. Recorded with Rode NTG-3, Rode NT4, Rode NTG-8, Rode NT1, AKG C411 PP, Lom Audio Usi Pro, Sound Devices 722, Zoom F8, Zoom H6, Tascam Dr-100 MKIII, Tascam DR-44WL.
Mist costs £89.95 GBP.
More information: Cinetools