Splice has announced that the Circle² synthesizer instrument by Future Audio Workshop is now available at its Rent-to-Own platform.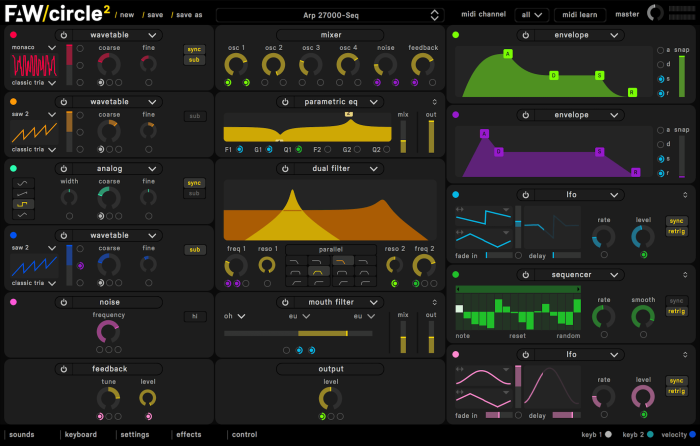 Joining the Xfer Records Serum synthesizer and iZotope's Ozone 8 and Neutron 2 audio effect plugins, Circle² is now available at just $7.99 USD/month.
Playful. Powerful. Intuitive. Fun. Circle reimagines how modular synthesis can look and work in the digital world, providing powerful synthesis features while maintaining ease of use. The result is an elegant soft synth that has gained a cult following among the vanguard of music producers and been heralded in review after review for its intuitive visualization of sound design.
Circle² features
As intuitive as patching—without a tangle of cables — Click and drag color-coded circles to the parameters you want to modulate. Preview the effect of a modulation before applying it.
An incredible range of sounds — With four oscillator slots, two envelopes, two LFOs, and noise and feedback generators, Circle²'s sound design possibilities are practically endless.
Everything in one window — Create seamlessly in a single window interface—no context-shifting to find sub-menus or hidden panels.
The only place to try VPS, a new type of synthesis — Developed in partnership with audio researchers at Maynooth University, Vector Phase Shaping is a new type of synthesis available only on Circle².
Through Rent-to-Own, you can get instant access to Circle² (VST/AU/AAX) at $7.99 USD per month, beginning with a three day free trial. You can cancel your plan at any time.
More information: Splice