Novation has introduced the latest in its Circuit family of grooveboxes designed with a hands-on screen-less production workflow for instinctive creativity.
Circuit Tracks is a standalone groovebox for the modern producer. It comes with two refined polyphonic digital synth tracks, four drum tracks, creative FX and on-the-go capabilities.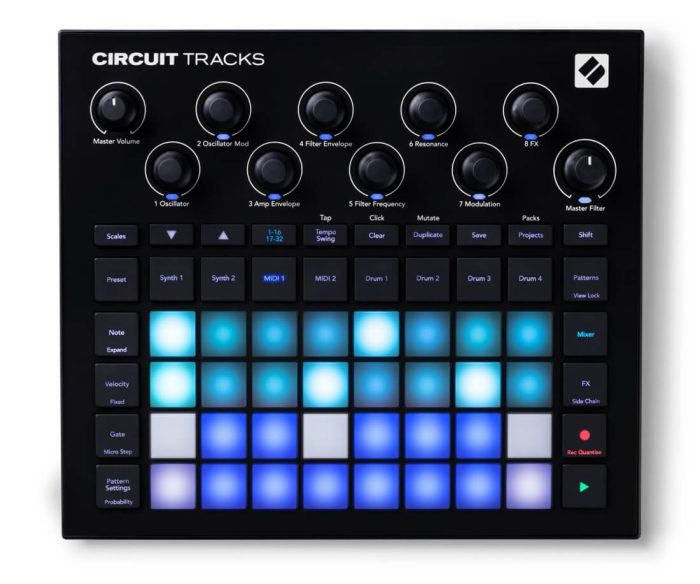 Engineered for immediacy and pure creative expression, Circuit Tracks makes for an performer's dream. It features velocity-sensitive pads and tactile control, microtiming, probability and pattern mutate.
Build intricate synth parts and load your own samples with ease. Effortlessly construct sequences, douse everything with FX and keep inspired. With its rugged, compact build and a built-in rechargeable battery, Circuit Tracks is the perfect hands-on device for the agile music maker.
Circuit Tracks features
All-in-one studio: Two synth tracks, two MIDI tracks and four drum tracks: everything you need to create and perform music
The agile groovebox: Lose yourself in a hands-on production workflow. Let your creativity thrive.
Acclaimed, hands-on sequencer: Create 32-step patterns, which can be chained to create sequences up to 256 steps in length, per track. Assign patterns to scenes to arrange and perform full-length songs. Go off-grid with microtiming, and keep your music evolving with probability and pattern mutate.
Colossal sound: Expand your sonic capabilities with two refined polyphonic digital synth tracks. Load your own samples and shape them to perfection across drum tracks.
Total control of your setup: Pilot your studio with two dedicated MIDI tracks, capable of sending notes and CC automation.
FX on everything: Douse synths, drums, and incoming audio in lush reverb and delay. Then make your mix pump with sidechain and punch with the master compressor.
Comprehensive connectivity: Connect to your studio with full-size five-pin MIDI in, out, and thru, and analogue sync out. Apply effects to two audio inputs, and listen through stereo out or with headphones.
Never stop creating: Insert a microSD card to save and recall thousands of synth patches, samples and projects.
Create anywhere: The built-in rechargeable battery provides up to four hours of battery life, so you can make beats on the move.
Go further with Components: Novation Components is the online companion that lets you delve into the synth engine, load samples and backup projects.
Included with Circuit Tracks: USB-C to USB-A cable, USB power supply, safety information.
Compatibility: Circuit Tracks is class compliant so it will work with any modern Mac or Windows PC.
Circuit Tracks is available, priced £359.99 GBP / $399.99 USD.