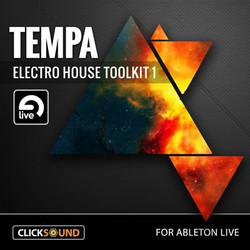 Clicksound has launched Tempa Electro House Toolkit 1, an Ableton Live 8.2 MIDI Construction Template library.
This supercharged MIDI Construction Template for Ableton Live is a fusion of Minimal Electro, Old-Skool Rave, Complextro and pinch of Techno all rolled into a speaker-shaking slice of sonic inspiration. At just under three minutes long, this absolute corker of a template, written exclusively for Clicksound, contains an expertly hand-crafted pallet of cutting edge EDM sounds and melodies that are packed full of Electro goodness.

This titanic template includes blisteringly sharp drums, dance-floor devastating riffs and effects that will blow your mind and, equally as importantly, that will give you the launch pad for your next Electro-style House project whether you are new to the style, or a seasoned pro!

Expertly demonstrating the arrangement structure of an Electro-style House track, this template not only shows off the awesome power of Ableton Live's built-in Instruments and Effects but also makes great use of Ableton Live's Macro Mapping. Each sound is set up in Ableton's Simpler and mapped to a unique Macros which means you can easily control and automate elements such as filters, sample start, loop length, bend, EQ and distortion.
The template pack is available from Loopmasters for £14.95 GBP.
More information: Clicksound