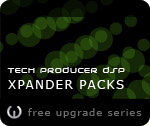 Cluster Sound has announced the Xpander Pack Series, mini-libraries consisting of new loops and samples developed to constantly increase the sound power of Tech Producer DSP.
Xpander Packs currently available
XPander Pack 01 – Modular Noiseq


Modular Noiseq consists of real-time recordings made with vintage modular synthesizers and effects designed for Lo-Fi productions and to add vintage backgrounds to tech-based tracks. A collection of evolving noise sequences, floating sounds, complex modular patches and filtered voices.

Xpander Pack 02 – Analog OSCar


Analog OSCar consists of 280 sounds and loops made with the glorious OSCar Synthesizer. Thanks to its agressive "splitting filter" and its integrated overdrive, this rare vintage synthesizer (1800 pieces produced) is the right machine for dance and electronc productions. Analog OSCar contains also 160 patches compatible with Kontakt and Ableton Simpler.
Tech Producer DSP costs 249 EUR (includes free shipping worldwide).
Visit Cluster Sound for more information.