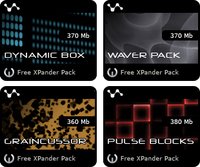 Cluster Sound has announced the releases of 4 new Xpander Packs.
Cluster Sound launches 4 free XPander Packs that thanks to their 1,5 gigabytes of content, catapult Tech Producer DSP over the threshold of 17 Gigabytes. Registered users can now access their account and download for free all the audio material of their "Minus" download series with the addition of exclusive extras.
New XPander Packs
XP07 – Dynamic Box &mdash a powerful and useful collection of kicks, snares and HHats which increases further the punchy arsenal of Tech Producer DSP. This free XPander consists of 620 WAV construction loops and samples, 205 REX2 loops, 410 Drum Rack sliced loops & devices, 144 Live Impulse drumkits and 70 Kontakt/NNXT drum instruments. Optimal dynamic range, worldclass quality, multi-format compatibility: Dinamic Box will push-up your tracks.
XP08 – Waver Pack — a stylish collection of instrument loops created by using the OSCar synthesizer, the Moog Sonic Six and complex digital synths based on hybrid synthses. Waver Pack cover a wide range of tech-based music styles and consists of 350 WAV loops and samples, 205 REX2 loops and 410 Drum Rack sliced loops & devices. Also an useful set of 90 bass instruments compatible with Live – Kontakt – NNXT is available.
XP09 – Graincussor — Sandy and glossy percussions, crispy glitches, crumbled breaks & beats, buffered low sequences. Graincussor is a free XPander pack based on granular synthesis and consists of 195 WAV loops, 195 REX2 loops and 390 Drum Rack sliced loops & devices that allow you easy manipulation and customization. Graincussor loops cover a wide range of music styles and will give a sensation of rough warmth to your tracks.
XP10 – Pulse Blocks — specifically designed for minimal music productions and consists of micro beats loops built around unusual structures. This design concept quarantees an instant adaptation to your minimal track and great results with delays and reverbs. Pulse Blocks consists of 585 WAV loops and samples, 190 REX2 loops, 380 Drum Rack sliced loops & devices and 770 Drum Kits compatible with Live, Kontakt and Reason.
The libraries are clearly designed for minimal and tech-based music productions and consist of 1750 WAV loops and samples, 800 REX2 loops, 1600 Drum Rack sliced loops & devices and 1070 instruments and drumkits for Live, Reason and Kontakt. The XPanders are free Tech Producer DSP users.
Visit Cluster Sound for more information.