Cluster Sound has announced the release of Drum Brain, a state-of-art Max For Live drum sampler featuring 6000 one-shot samples, external files import, an ultra-friendly interface and a solid set of synthesizer parameters.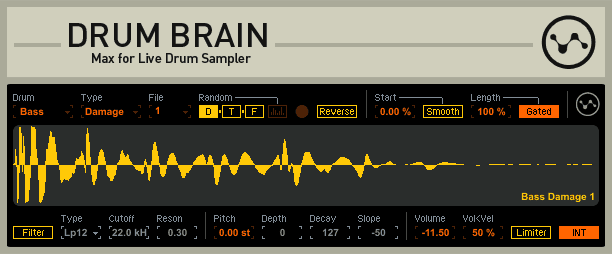 Drum Brain is a Max For Live drum sampler designed from the start to radically simplify the access to its built-in array of samples. Thanks to the dynamic Sample Selector and the advanced Randomizer, Drum Brain allows to instantly find and load the right sound and to randomize the samples of specific categories.

The drums can be mangled with a powerful set of parameters including 8 different filters with cutoff and resonance controls, a Pitch Envelope sections and a super robust Sample Start-Length system with reverse, smoothing and truncation features, specifically designed for drum sounds. Drum Brain can also import external samples, implements a Device Auto Renaming (very useful when placed into a Drum Rack) and is fully mapped for Push.

The included cutting-edge sample array delivers tons of rugged kicks, sturdy snares, sparkly hats, deep lofills, exotic vocoder FX, bubbling glitches, edgy shatters, noises, one shot synths & basses, and the list could go on and on. We have stressed modular synthesizers, hacked drum machines, coded custom softwares, sampled radio signals and shaped noises by using state-of-art studio gears and refined sound design techniques. The result is a brilliant collection of top notch drums that achieve maximum impact at the highest possible quality.
Drum Brain features
Size: 1.2 Gigabytes.
6000 One-shot drum samples.
Import external samples.
Sample Selector/Randomizer.
Drum-Optimized Start/Length System.
Multimode Filter Section (8 filter types).
Pitch Envelope Section.
Device Auto Renaming.
Host: Ableton Live 9.5 + Max for Live 7.
Drum Brain is available for purchase for 69 EUR.
More information: Cluster Sound
https://soundcloud.com/clustersound/sets/drum-brain-max-for-live-drum