Cluster Sound has announced the release of DWave, a multi-sample Live Pack based on the Korg DW-8000, an analog-digital hybrid synthesizer from the middle 80's, perfect for techno/house basses and synths.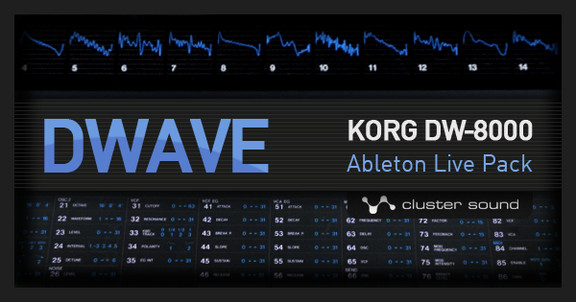 The DW-8000 is a digitally controlled analog synth launched by Korg in the 1985. Its sound comes from 2 DWGS (Digital Waveform Generator System) implementing 16 sampled waveforms stored in four 256Kbit ROM chips: each octave uses its own sample and the remaining notes are recreated by additive harmonic synthesis. The DW-8000 sounds very solid and fat, especially on low-pitched notes. Thanks to the full resonant analog filter and the VCA, this '80s tank can generate punchy basses, aggressive leads and powerful organ-line sounds.

DWave is based on 54 multi-sample recordings including the 16 oscillator waveforms and custom sounds coming from various VCF and envelopes settings. The package delivers 74 inspiring Live Racks ranging from rude basses to acid-organ sounds and filtered leads, a perfect snapshot of the DW-8000 character.
DWave features
700 MB content, 24-bits/44.1 Khz.
54 Multi-Sample recordings.
74 Instrument Racks.
74 Sampler Devices.
54 Simpler Devices.
25 Live Clips.
2 Audio Effect Racks.
One sample per note (5 octaves).
The DWave Live Pack costs 14 EUR. A free pack with 4 multi-sample instruments is available to download.
More information: Cluster Sound