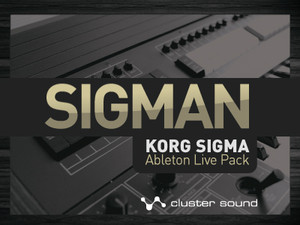 Cluster Sound has announced the release of Sigman, a multi-sampled Live Pack based on the vintage Korg Sigma, primarily designed for raw analog basses & leads.
In the late 70's Korg experimented with a machine for players looking for a simpler alternative to knobby synthesizers. The result was the Sigma, a bi-timbric semi-preset synth with rocker-tabs, micro knobs and two X-Y joystick controls. The Korg Sigma is based on 19 VCOs grouped in two discrete sections (Synthe and Instrument) that can be cross-modulated and filtered with a LP/HP Filter. Each VCO is equipped with a single dedicated control including Korg35 filter circuits for shaping the sounds.

Sigman is based on 30 multi-sample recordings obtained by sampling the VCO presets and custom cross-modulated sounds. Sigman delivers 90 inspiring and meticulously crafted Live Racks with dedicated macro controls, part of which simulate the ring-modulator, the joystick filter and the single VCO knobs of the original Sigma.
Sigman features
800 MB content, 24 Bits/44.1 Khz.
90 Instrument Racks.
90 Live Devices.
40 Live Clips.
30 multi-sample recordings.
One sample per note (3 octaves).
Sampler / Simpler versions included.
Perfect loop-points (no crossfading).
Requires Ableton Live 9.
The Live Pack costs 24 EUR. Until December 24th, 2013, it is available to purchase for 9 EUR with coupon code SIGMAN9EU at checkout.
More information: Cluster Sound