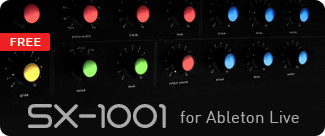 Cluster Sound has announced SX-1001, a free Ableton Live pack based on the Jen SX-1000 synthesizer.
Released in the 1978 by the Italian Jen Elettronica, the SX-1000 is a cheerful mono-synth. Used by artists like used by Future Sound of London, LFO and Prodigy, it has been the first synthesizer implementing an hybrid oscillator (four years before the Juno 6).

The SX-1001 is based on 16 multi-sample recordings created by sampling the SAW, SQU and PWM waveforms with different settings. The SX-1001 delivers 33 Live Presets (with dedicated macro controls) each of which consists of 37 perfectly-looped samples (each note of the 3-octave keyboard).
SX-1001 features
Size : 430 Mb.
24 Bits / 44.1 Khz.
16 multi-sample recordings.
One sample per note (3 octaves).
Perfect loop-points (no crossfading).
33 Live Presets.
33 Sampler/Simpler Devices.
Requirements : Ableton Live 9.x.
SX-1001 is free for all Cluster Sound registered users (registration is free).
More information: Cluster Sound