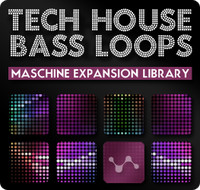 Cluster Sound has announced Tech House Bass Loops, an expansion sound library for Maschine by Native Instruments.
Tech House Bass Loops is a Maschine expansion library, a massive collection of pre-sliced bass loops specifically designed for Tech House productions.

The library is a fine selection of 170+ puncy basslines that can be easily imported in your live set or used as the basis of your next compositions and remixes. Tech House Bass Loops is far to be a collection of static loops. Each bass can be modified by altering the MIDI structure and by using the 8 macro controls that allow to manage the built-in FX chain.
Tech House Bass Loops features
173 pre-sliced Bass Loops (Maschine Loops / Wav).
Built-in Multi FX Chains: Each bassline group is equipped with a built-in FX chain (Exciter -> Filter -> Chorus -> String) coupled with two additional Aux effects (Reverb – Delay). This particular design allows to use a Multi FX chain without having to dedicate it to one of the 8 precious tracks of your Maschine and to save your FX settings together with the loop.
Dedicated Macro Controls: In order to guarantee an immediate sound manipulation, the main FX parameters have been assigned to the 8 macro controls of each bass group, easily accessible via hardware controller. Here you will be able to manage the frequency and the amount of the (EQ) exciter, the filter cutoff and resonance as well as the amount of the insert (Chorus and Spring) and aux effects (Dark Room and Mid Delay).
Tech House Bass Loops is available to purchase for 24.95 EUR.
More information: Cluster Sound