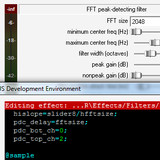 Cockos has released version 2.0 of ReaPlugs, including two new plug-ins to the suite of free effect plug-ins for Windows.
Want to use some of the comprehensive FX plug-ins that REAPER provides, but stuck in another host? Haven't made the switch yet? Fear not — you can download ReaPlugs, a package of FX that includes many of the plug-ins that come with REAPER, for free!
Changes in ReaPlugs v2.0
Installer..
Plug-ins brought up to date with their REAPER 3.1x relatives (many improvements)..
Fixed leaking GDI resources on plugin unloads..

ReaControlMIDI

added:

Flexible MIDI controls in VST format.
Automate CC envelopes and bank/program selection, as FX parameters.
Full sysex support.

ReaJS

added:

Realtime user-editable effect processor.
64-bit internal audio processing, MIDI support, full PDC support, multichannel I/O support, graphics display support.
Hundreds of included effects, including: delays, compressors, limiters, convolution, distortion, spectral noise editors, analyzers, loop samplers, creative effects.
Create new effects from scratch, or modify existing effects to meet your needs.
JS editor and debugger included, opens automatically when you edit a plug-in.
ReaPlugs is available as a free download for Windows PC (VST).