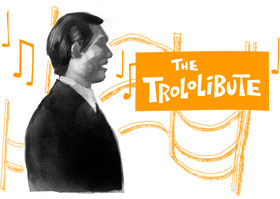 Ohm Studio has announced The Trololibute, a collaborative music-making session to tribute a song by Mr. Trololo.
Participants, logged in to their Ohm Studio account, will do a remix of a song by Eduard Khil in a group of 3-4 people, working together in real-time.
Ohm Studio is more than a sophiticated chat room: it's also a wonderful platform for tributes!

That's why we created a project for you. Included the classic ""Я очень рад, ведь я, наконец, возвращаюсь домой" soundtrack, with some little work already done (tempo track, a few parts). Right now, you can create to clone the project and mess around with it with your friends! And if you have no friend, or if you're excited to make new ones out of internet unknowns, here's the catch: we're organizing a Tuesday musician speed date! Fill this form, tell us about your size, muscular description, oil preference, and more importantly, musical tastes, skills, and a preferred time to join in next Tuesday. We'll then group you in a corra… in a cloned project with three more talented musicians. If you manage to get along with the other idiots and actually make some decent track, expect to be mentionned in the next cohmunity update (which as we all know is a good way to impress ladies, at least when they're drunk).
The Trololibute will take place on Tuesday 12nd June, 2012.
Visit Ohm Studio for more information.